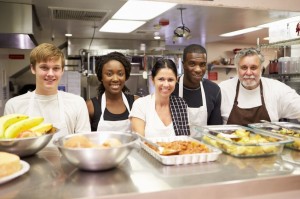 The dictionary definition of civic-mindedness refers to the "actions, activities or individuals that are motivated by or that show concern for the public good or humanity as a whole." In other words, a civic-minded person is willing to participate in activities that benefit their communities, such as volunteering, donating, and/or speaking out about issues and causes they're passionate about.
After an incredibly divisive year of hyper-polarized political discourse, skyrocketing rates of harassment and violence against journalists, and the distortion of reality through "fake news" and inflammatory rhetoric, we'd like to ask all First Amendment Voice members and supporters to join us in rebuilding a sense of national unity through small acts of civic-minded kindness in their communities. If you're onboard with making America kind again, then here are some of the many ways you can be more civic-minded in the new year:
Use Your Voice
As we discussed at our National Symposium in 2018, your voice matters! Whether this involves spreading the word about an important cause in your community or gathering support for political organizations via social media, there is no limit on the number of ways you can use your voice as a platform promoting respect and kindness towards all Americans.
Perhaps you could also constructively engage in controversial discussions by researching different perspectives from credible sources beforehand, learning more about logical fallacies, and being willing to listen to arguments and individuals you disagree with, rather than talking over them or refusing to engage simply because you have different perspectives.
Volunteer for a Cause You Care About
What are you truly passionate about? For instance, are you concerned about the state of press freedoms in the U.S. and abroad? Are you worried about the future of freedom of expression online? Or what about other causes with significant consequences (and public controversies), such as climate change, gun control, public health, and affordable housing?
No matter what your favorite causes may be, there are always opportunities for civic-minded individuals to get more involved in advocacy efforts through volunteering. If you've volunteered on and off for an organization or two in the past, then make this the year in which you commit to regularly volunteering for a nonprofit that aligns with your activist goals and ideals for American society.
Donate to Those Who Truly Need It
If you're too busy with work and family obligations to volunteer more often, then consider contributing financially instead. There are so many worthy causes that deserve more funding to continue their ongoing efforts to improve the lives of less-fortunate individuals in your local community, as well as helping certain groups on the national level.
If First Amendment freedoms are also important to you, then consider donating to First Amendment Voice to help us protect our most treasured Constitutional rights in 2019 and beyond.