FAV Family,
While lining up a coffee talk in partnership with PEN America to discuss Press Freedom and news consumption, I reached out to numerous organizations.
One individual called me back, and we had a long conversation about FAV, press freedom and the type of discussion we generally have with respect to first amendment issues and trends in how people consume news. Her organization was affiliated with a political party. After we scheduled a session for me to come speak, she asked if my wife planned to attend and whether she was a member of the party. I responded that my wife and I are not registered in any political party and remain nonpartisan in our political activity. This caused quite the reaction.
The woman cited a rule that only registered members of her party were allowed to speak to the organization. "I don't make the rules; I'm just letting you know what they are." I responded that as a 25-year veteran, having served 40 months in combat, maybe I had something to offer the group, regardless of political affiliation.
Her response, "I don't make the rules; I'm just letting you know what they are."
Maybe this is a new norm? Are people so insulated in their bubbles that they are afraid to hear what others might say? Planning for Philadelphia this September, we plan to tackle this issue head on. We recently secured a wonderful speaker, Kern Beare, who routinely hosts "Difficult Conversations" workshops; how to bridge divides and engage with those with whom we disagree. Learn more about Kern's story.
I hope you will consider joining us. We think you will find the experience meaningful.
Please forward this newsletter to friends and colleagues you think would appreciate FAV's work. Subscribe here.
Yours in service,
Steve Miska and the FAV Team
---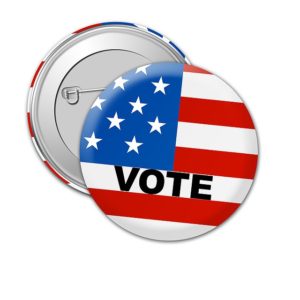 Citizen's Call to Action
It's primary season in many states around the republic. Don't forget to register and vote! Citizenship is not a spectator sport! #OwnYourLiberty
---
In the News
An article from the New York Times highlights the battlegrounds for free expression and technology. Read an excerpt:
BERLIN — Security is tight at this brick building on the western edge of Berlin. Inside, a sign warns: "Everybody without a badge is a potential spy!"
Spread over five floors, hundreds of men and women sit in rows of six scanning their computer screens. All have signed nondisclosure agreements. Four trauma specialists are at their disposal seven days a week.
They are the agents of Facebook. And they have the power to decide what is free speech and what is hate speech…
Richard Allan, Facebook's vice president for public policy in Europe and the leader of the company's lobbying effort against the German legislation, put it more simply: "We don't want to be the arbiters of free speech."
>>continue reading
---
UPCOMING EVENTS:
First Amendment Voice Third Annual Symposium
Join us at our national convening in the City of Philadelphia,founded by William Penn as a place of religious tolerance, as we join people of faith and conscience to celebrate our Constitutional ideals; honor the annual Constitution/Citizenship Day; and address the erosion of our First Amendment Rights.
Date: September 14-15, 2018
Location: National Constitution Center (525 Arch Street, Philadelphia, PA 19106)