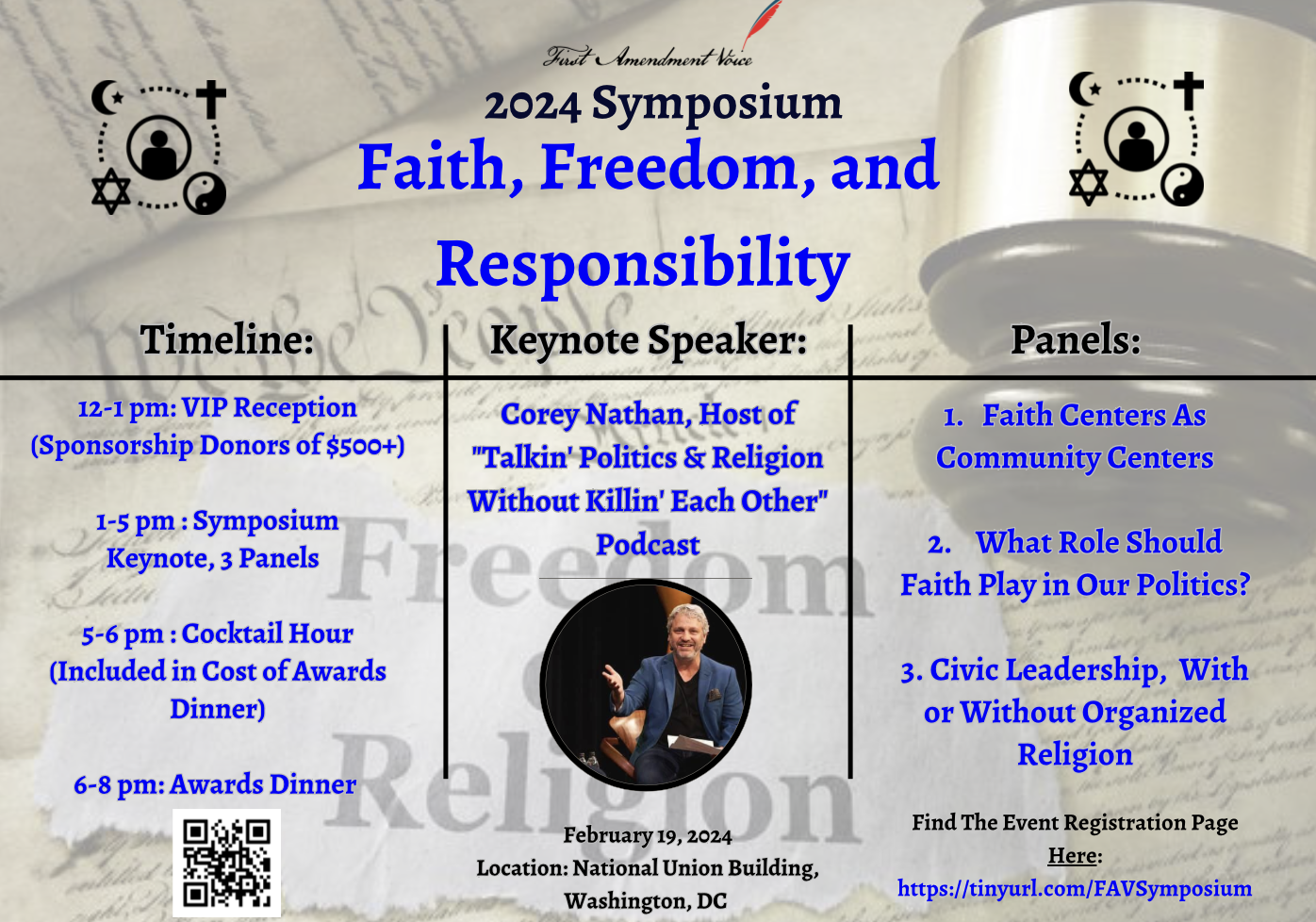 2024 National Symposium and Awards Dinner
February 19th, 2024 at 1pm – 8pm EST
National Union Building, Washington D.C.
2024 National Symposium and Awards Dinner
We invite you to join First Amendment Voice for this first-time combination of our annual Symposium and Awards Dinner on February 19th at the National Union Building in Washington D.C.
We will start the day off with our Symposium with the theme of "Faith, Freedom, and Responsibility." The Keynote Speaker for this will be Corey Nathan, host of the podcast "Talkin' Politics & Religion Without Killin' Each Other." It will consist of 3 panels with moderators of each panel to be announced soon:
Faith Centers As Community Centers
What Role Should Faith Play in Our Politics?
Civic Leadership, With or Without Organized Religion
After our Symposium we will host a separate Awards Dinner which includes a Cocktail Hour from 5:00 pm-6:00 pm. This will be followed by the presentation of our 2 Awards: The Ed Lowry Award and the new Golden Eagle Award. We are currently accepting nominations for this year's Ed Lowry Award and all nominees will receive a free ticket to the Awards Dinner while all nominators will receive 50% off of a ticket. For more information on Awards and how you can nominate someone deserving, please visit the Ed Lowry Awards section of our website under "Tools/Events."
For information on the cost of the event, feel free to check out the below graphic. If you are interested in registering, you can do so by scanning the QR Code on the graphics, clicking on the "Register" button above, or going to the following link: https://www.eventbrite.com/e/first-amendment-voice-national-symposium-awards-ceremony-tickets-634100771477?aff=oddtdtcreator
We are also currently working with a vendor on securing group rates for a local hotel and will update with that information as soon as possible
We hope to see you on February 19th in Washington D.C.!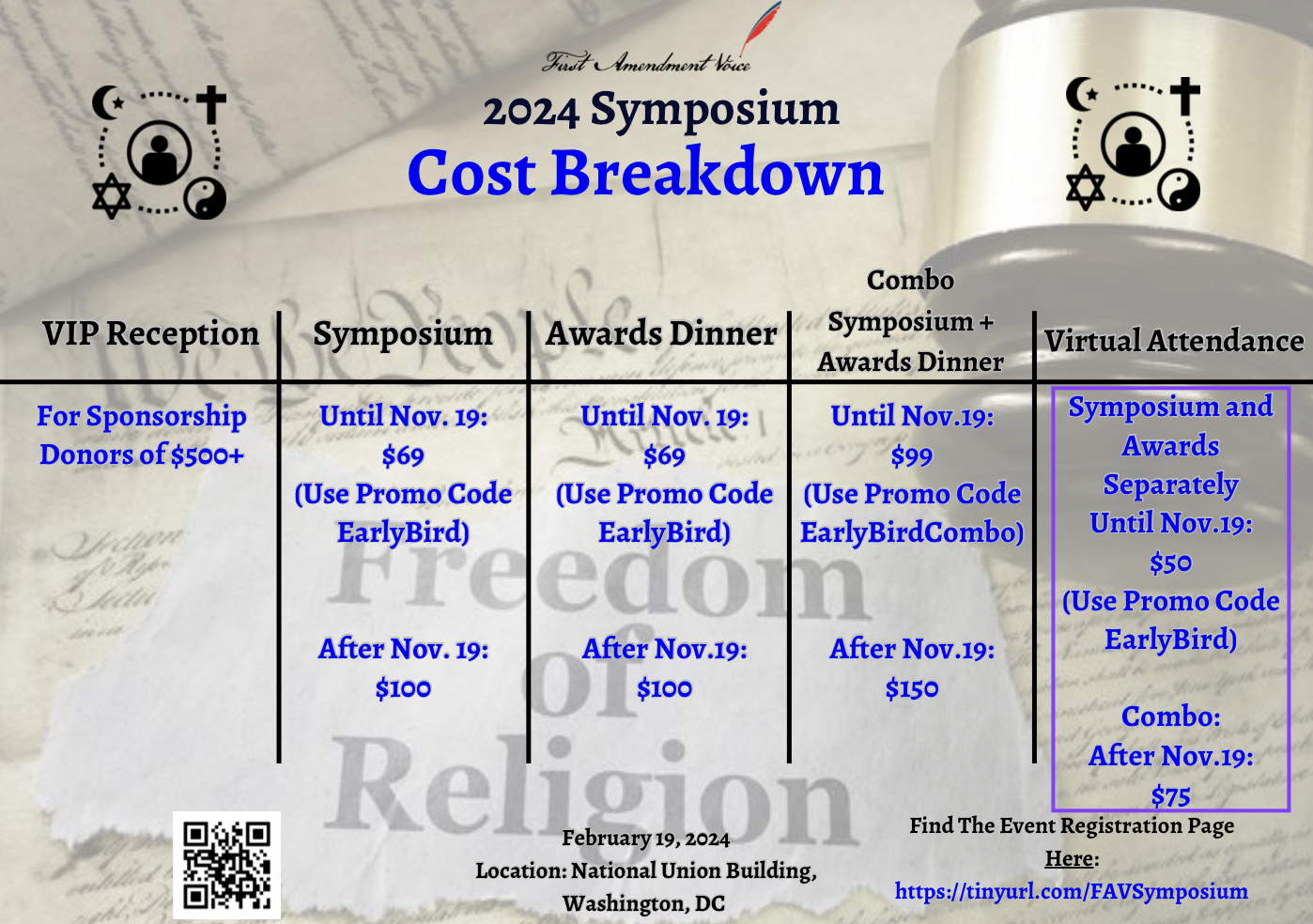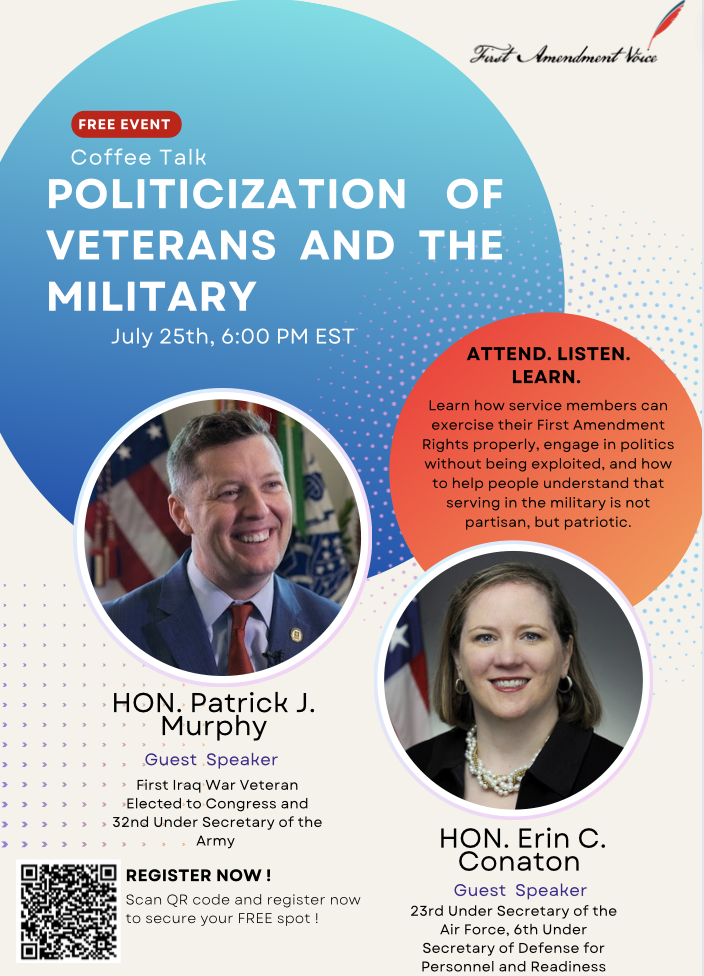 Coffee Talk: Politicization of Veterans and The Military
July 25th, 2023 6:00pm EST
On July 25th, 2023 we hosted a Coffee Talk discussing the Politicization of Veterans and The Military. We had two very special guests: The Honorable Patrick J. Murphy and the Honorable Erin C. Conaton. Both speakers had ample personal experience to discuss this topic. We learned how service members could excercize their First Amendment Rights properly, engage in politics without being exploited, and how to help people understand that serving in the military is not partisan, but patriotic.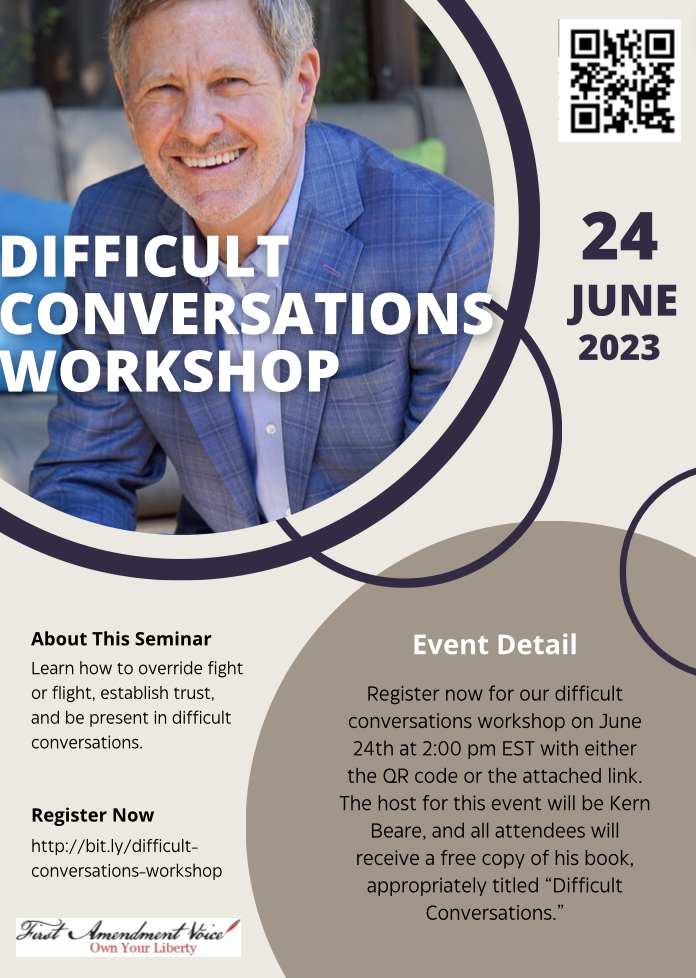 Difficult Conversations Workshop
June 23, 2023 at 2:00pm EST
On June 24, 2023 we hosted a Difficult Conversations Workshop led by author, Kern Beare. During this workshop, Beare discussed how we can learn to override fight or flight, establish tryst, and be more present in difficult conversations. All attendees also received a free copy of his book entitled "Difficult Conversations," so if you're interested in events like this, keep up to date with all of FAV's events.