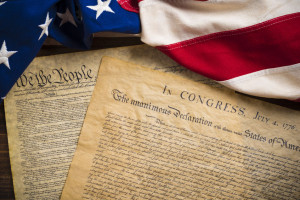 James Madison once said, "What spectacle can be more edifying or more seasonable, than that of Liberty and Learning, each leaning on the other for their mutual and surest support?" With our Founding Fathers' wisdom in mind, we couldn't be more excited to share new and exciting details about our upcoming national symposium with you! This year's theme involves "E. Pluribus Unum or Divided?" – in which we'll explore the current state of political polarization in the U.S., along with research-proven strategies and expert advice guiding discussions to help us overcome divisions amongst our fellow citizens.
What you need to know about the Symposium
This year's symposium will take place at the National Constitution Center in Philadelphia. We have many amazing speakers and discussion panels lined up, and you can get a head start on the event by attending our exclusive VIP reception at the Wyndham Hotel on Friday, September 14th.
Since our main focus is overcoming political divisions and developing new, constructive ways to interact with citizens in our communities and online, panels will include speeches from experts and opportunities for attendees to discuss the most pressing issues affecting our First Amendment rights. The symposium will begin at 9am and conclude at 5pm on Saturday, September 15th, so be sure to sign up today to secure your spot at this once-in-a-lifetime event.
Student can enter our Instagram contest
George Washington once said, "A primary object should be the education of our youth in the science of government. In a republic, what species of knowledge can be equally important? And what duty more pressing than communicating it to those who are to be the future guardians of the liberties of the country?"
In other words, students of today are the protectors of our First Amendment freedoms in the future, which is why we want to acknowledge and reward civic-minded high school and college students for their efforts. If you are actively making a difference in your community and want to learn more about how you can preserve First Amendment rights for everyone, then you won't want to miss our Instagram contest this year!
We're giving away free tickets to the symposium for students who demonstrate their commitment to unity by following First Amendment Voice on Instagram and submitting photos with #FAVUnity in the caption (be sure to explain how you're bridging divides and bringing people closer together, too!). One student grand prize winner will receive free admission to our VIP Reception at the Wyndham Hotel on Friday evening before the symposium begins, so enter our contest any time before September 1st for a chance to win big!
Plan your visit to this year's Symposium
The 3rd annual symposium is just around the corner, so click here to sign up to attend the event. Performing our civic duties involves so much more than just voting, so come out to Philadelphia and engage with like-minded citizens to learn about the latest and most successful strategies for protecting our Constitutional rights for all Americans.