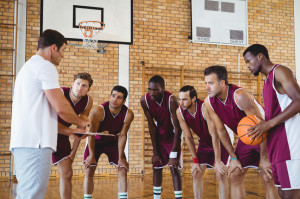 Colin Kaepernick may have sparked the debate over professional athletes' access to freedom of speech and expression protections, but controversies about athletes and First Amendment rights involve so much more than kneeling during the national anthem.
Whether you enjoy playing sports or watching sports, here's a brief overview of the state of First Amendment rights for fans and players in the American sporting industry:
Major League Player Protests
As ESPN points out, there is no universal policy among major sports leagues when it comes to players' conduct during the national anthem. While the new NFL policy that players and coaches must stand during the national anthem mirrors NBA and WNBA policies, the MLB and NCAA have no official policies on the matter. The NHL's Player's Association even went as far as explicitly confirming support for players who would like to engage in "peaceful protest" during the national anthem. Meanwhile, Major League Soccer reportedly "encourages" players to stand during the national anthem, but it does not require them to do so.
If the First Amendment primarily protects citizens against any wrongful infringement on their speech/expression by the government, should it also protect professional players that work for nongovernmental sports organizations? The debate will likely continue for many years to come.
Paid Sponsorships for College Athletic Departments
College sports are already under fire for not paying their players (beyond covering tuition/fees in most cases), while their events make millions of dollars thanks to these hard-working student-athletes. Another issue confronting college athletic departments these days is paid sponsorships, which involves corporations sponsoring college teams by offering funds, gear and other incentives in exchange for advertising opportunities.
Since public university athletic directors are technically government employees, this raises the issue of potential First Amendment violations when a director accepts some corporate sponsorships while rejecting others. Should athletic departments be able to freely deny certain corporate sponsorships and accept others, or does this represent a Constitutional violation? Experts are still divided, so this will also remain a hotly contested issue in the world of college sports for the indefinite future.
Fan Heckling = Protected Speech?
A relatively newer phenomenon related to the First Amendment and sporting events is fan heckling. In 2018, New York Giants fans were ousted and arrested for heckling, which led them to sue, claiming their First Amendment rights were violated.
In the international arena, fan heckling has typically resulted in monetary penalties for teams, such as FIFA fining Mexico in the 2018 World Cup after Mexico's fans repeatedly hurled homophobic slurs at the goalie during their match against Germany. But when it comes to American sports – where legal jurisdiction is also more clear-cut than simply letting FIFA handle matters – should fans be penalized for heckling and poor conduct, or is this merely disrespectful behavior that should nevertheless be protected by the First Amendment?