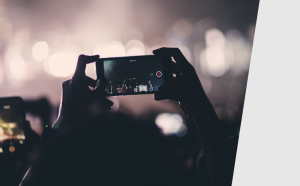 2020 has become quite an interesting year for First Amendment advocates, and along with major societal unrest — not to mention the ongoing global pandemic — comes greater public interest in legal rights and restrictions, particularly where recording laws are concerned.
To determine what your rights are in terms of who, what, where, and when you record, let's examine the present laws, current events, and notable examples of public recording laws:
Recording Civilians
Many aspects of recording laws are up to individual states to determine, which makes it difficult to analyze 50 different approaches to public privacy. However, you can generally record in public as long as there's not an expectation of privacy.
Is there something you shouldn't record, even though you can? As Consumer Reports points out, you want to avoid videotaping peaceful protesters, which could potentially make them targets later on. However, you should record people breaking the law (as long as it's safe to do so) because footage could provide valuable proof in a court of law in the future.
So what about location? In 2019, the judge for Sheets v. City of Punta Gorda upheld an earlier court's decision pertaining to recording in government buildings. Whereas public streets are considered "traditional public fora" (for First Amendment purposes), government buildings are considered "nonpublic fora" where speech may be somewhat restricted in the prohibition of recording, for instance.
Recording Police Activity
Some people mistakenly believe you're not allowed to record the police, but the Electronic Frontier Foundation correctly explains how this is guaranteed by the First Amendment (even if an officer tells you to stop recording, as one did to an Uber driver in 2017 without realizing the driver was a criminal defense attorney who very much understood his rights; the Sheriff's Department involved in the matter in North Carolina responded, "not only does the Sheriff agree that it is legal to record encounters, he invites citizens to do so").
The Municipal Research and Services Center also points out:
Citizens lawfully present at the scene of police activity may express verbal criticism—even profane and abusive criticism—towards police officers carrying out their duties so long as the citizens do not physically touch the officers or issue threatening statements or movements.
In other words, the First Amendment generally protects protesters' rights in police encounters, so long as they remain nonviolent in their actions and nonthreatening in their language.
Without video footage of George Floyd's death, there might have never been such widespread protests and murder/manslaughter charges against the police officers involved. Without video footage of Buffalo, NY police pushing over a 75 year-old man and leaving him to bleed on the ground, the officers might not have been investigated and suspended without pay.
There is an entire Google Spreadsheet with videos of police brutality during the George Floyd protests, which would not have been possible if people didn't record police activity at protests. For more information on public recording laws and tips for filming protests and suspected police abuse, check out Witness.org's helpful guide.