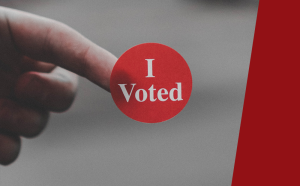 As the Yale Law & Policy Review argued in a 2016 essay, voting ought to be considered a form of speech, which would inherently tie it to citizens' First Amendment freedoms. However, when the country is facing an unprecedented public health crisis, what do voting rights look like in the coronavirus era?
More importantly: how can we collectively protect freedom of speech for all while navigating the political challenges and public health concerns that are likely to remain widespread and controversial leading up to the 2020 American Presidential Election?
Barriers to Voting (Before COVID)
Voter ID laws vary from state to state, but some restrictions have unintended consequences on individuals' voting rights in some cases. For example, many out-of-state college students are unable to vote at all if they can't access vote-by-mail from their home states and their college student ID cards aren't considered sufficient proof of identity to access their ballot at the polls.
Voter ID laws can also negatively impact elderly, low-income and rural voters who have limited access to government identification due to transportation issues, lack of affordability (especially for seniors with fixed incomes), and distance between their homes and offices where they must go in-person to receive an ID card.
Other barriers to voting access that currently exist in the U.S. include:
Is Voting by Mail a Solution?
According to the National Conference of State Legislatures, voting by mail has been shown to increase voter turnout due to its convenience and flexibility (since people don't need to take off work to go to the polls). As the Military Times points out, voting by mail has been standard practice for U.S. military members and their families since the Civil War, and the practice is used for all elections in Colorado, Hawaii, Oregon, Washington and Utah.
NPR reported on June 4, 2020 that voting by mail is generally a bipartisan issue — 24 states with Democratic governors and 22 states with Republican governors allow some form of mail-in voting currently — and an April 2020 poll found 70% of Americans are in favor of voting by mail.
Multiple high-profile politicians who are publicly opposed to voting-by-mail at the moment have voted by mail themselves in the past, and an analysis of vote-by-mail states in 2016 and 2018 conducted by the nonprofit Electronic Registration Information Center found just 372 possible cases of double-voting or someone voting for a deceased person, out of more than 14.6 million votes cast (this translates to a 0.0025% risk of voter fraud).
In the wake of voters having to wait as long as 6+ hours to access the polls in Georgia's primaries in 2020 and other fears surrounding coronavirus spread that contributed to disastrous results in Wisconsin's primary (including sorely understaffed polls and 50+ voters/poll workers who tested positive for COVID-19 after the primaries), voting by mail could be a viable option for protecting citizens' rights to vote in the 2020 Presidential Election without risking their health or safety in the process.