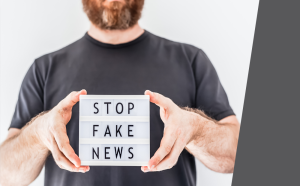 Misinformation is all around us, and it's continuing to play a massive, behind-the-scenes role in both our contemporary politics and social lives. As the director-general of the World Health Organization said at the Munich Security Conference in 2020, "We're not just fighting an epidemic; we're fighting an infodemic."
Social media tends to be one of the biggest arenas where the spread of misinformation occurs. Indeed, the International Foundation for Electoral Systems published a report in 2019 that examined the various ways in which social media, disinformation and technological systems could influence electoral outcomes.
In the paper, the IFES refers to the issue of social media and disinformation as a "fundamental threat to the integrity of elections worldwide," though the threat clearly goes beyond politics to include areas such as public health, natural disasters, and mass shootings, to name a few.
Since social media platforms are rife with misinformation and companies like Facebook have been dragging their feet on developing faster, more accurate systems for fact-checking and myth-busting, it's important that citizens become empowered to independently combat the spread of misinformation within their own social networks.
Ask Yourself: Do the Facts Align with Reality?
Our March blog post offered some excellent pointers for detecting fake news online. This is an important first step in the process to effectively combat misinformation online. Identifying misinformation can be as simple as asking yourself if the facts align with reality and checking other sources to see if they're reporting similar incidents.
Vox's guide to fighting fake news and conspiracy theories also recommends that you engage more critically with articles to uncover potential problem areas, such as a lack of external sources within the article, questionable credibility of the author (or no author at all) and the publisher's reputation.
Once you've thoroughly vetted a source for an article shared by someone in your social network, you could respond by either offering alternative sources with greater credibility, respectfully asking the person who posted a questionable source to justify how or why it's accurate or offer a brief, line-by-line explanation for how the story doesn't match reality (your mileage may vary on this last one; in today's hyper-polarized social media climate, it's important proceed carefully when deciding whether to publicly call someone out for posting misinformation, regardless of their intentions).
Ask About the Source's Accuracy
According to a study by Columbia University and the French National Institute in 2016, 59% of links on social media were never clicked prior to being shared. This is concerning on many levels, particularly when you consider the enormous power of persuasive headlines and catchy imagery to convince social media users to share content with potentially thousands of other people.
Obviously, reading the article before sharing it would be a good practice for your own social media habits, but what if you're confronted with a friend or family member who is sharing links without reading them thoroughly beforehand?
A newer study published in Psychological Science in June 2020 found that "people share false claims about COVID-19 partly because they simply fail to think sufficiently about whether or not the content is accurate when deciding what to share." In other words, by directly asking someone about a source's accuracy, they are more likely to put in extra cognitive effort to discern whether the information is true or false, compared to when nobody confronts them on a source's accuracy prior to sharing.
Leverage Credible Sources Against Disinformation
Another tool in your anti-misinformation arsenal is the plethora of high-quality, mostly-objective sources that exist to provide the most accurate information possible to their audiences. You can find out which sources are considered the most objective by viewing the Media Bias Chart from Ad Fontes Media. You might also want to share the chart with your own social network to support your followers' digital literacy education.
In the future, we can probably expect to see more proactive fact-checking initiatives rolled out from social media companies. In the meantime, it's up to everyday citizens like us to reach out to family members or friends who post blatantly untrue (or even subtly misinformed) information on social media to share the facts, limit the spread of disinformation within our own social circles, and promote greater media literacy for people of all ages.