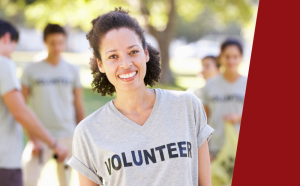 Voting is one of the most widely-recognized forms of civic participation, but it's certainly not the only one. Civic engagement is typically defined as people coming together to socialize, advocate, converse, and make a difference in their communities, and it's important for everyone to get involved in some meaningful way to sustain the community and help its members thrive.
Since citizenship is not a spectator sport after all, here are some additional ways to boost your own civic participation and positively impact people around you as a result of your good works:
Engage in Community Conversations
Did you know something as simple as talking or listening can be considered forms of genuine civic engagement? By seeking out and joining conversations — whether they're held virtually or in-person — you're playing an active role in shaping your community's future just by showing up.
You can discover what conversations, public hearings, dialogues and debates are happening in your community by checking your local government office's website, browsing local events in the newspaper or on Nextdoor, or by visiting the websites of your favorite advocacy organizations to see if and when they're hosting civic events (such as First Amendment Voice's coffee talks and annual national symposium).
Volunteer for a Nonprofit Organization
Volunteering is arguably the second most well-known form of civic engagement (after voting). It also has several positive health benefits for participants, such as reduced feelings of isolation, lowered risk for cardiovascular disease, lowered rates of anxiety and depression, and reduced risk of developing cognitive impairments later in life.
Millions of hours of volunteer labor go into supporting nonprofits' activities, programming and events every year. Without volunteers, many of these community-driven organizations would struggle to operate and serve those who need them most. If you want to get involved beyond the ballot box, contact nonprofits in your area to ask about volunteer opportunities. To become even more engaged as a citizen, consider joining a civics-centered nonprofit organization or donate money to a civic cause.
Participate in Community Clean-Up Events
Perhaps your schedule is too full to add a regular volunteering commitment. How about joining a trash pick-up event once or twice per month as a compromise? Many community organizations — some of them registered 501c3, others just informal groups of like-minded folks — host weekly or monthly clean-up events, particularly in areas with high public use such as parks, beaches, trails, etc.
You can easily find a community clean-up in your area by Googling your city or county's name and "community clean-up" or "trash pick-up events." You should be prepared to bring your own supplies (gloves, trash bag, hand sanitizer, etc.) and consider donating additional resources to the group you clean up with, if your financial circumstances allow for it.
Join a Club or Recreational Sports Team
Last but not least: did you know that participating in a hobby or sport with other people in your community can be considered a form of civic engagement, too? It's true! When you join a recreational sports league or join a hobbyist club, you're regularly interacting with fellow members of the community, which could also involve conversations about the community and social support for other members of the group.
As you can see, there is no shortage of ways to get involved as a citizen beyond simply voting for candidates and propositions each year. If you have additional strategies for becoming a more active member of your community, please share them with us in the comments!