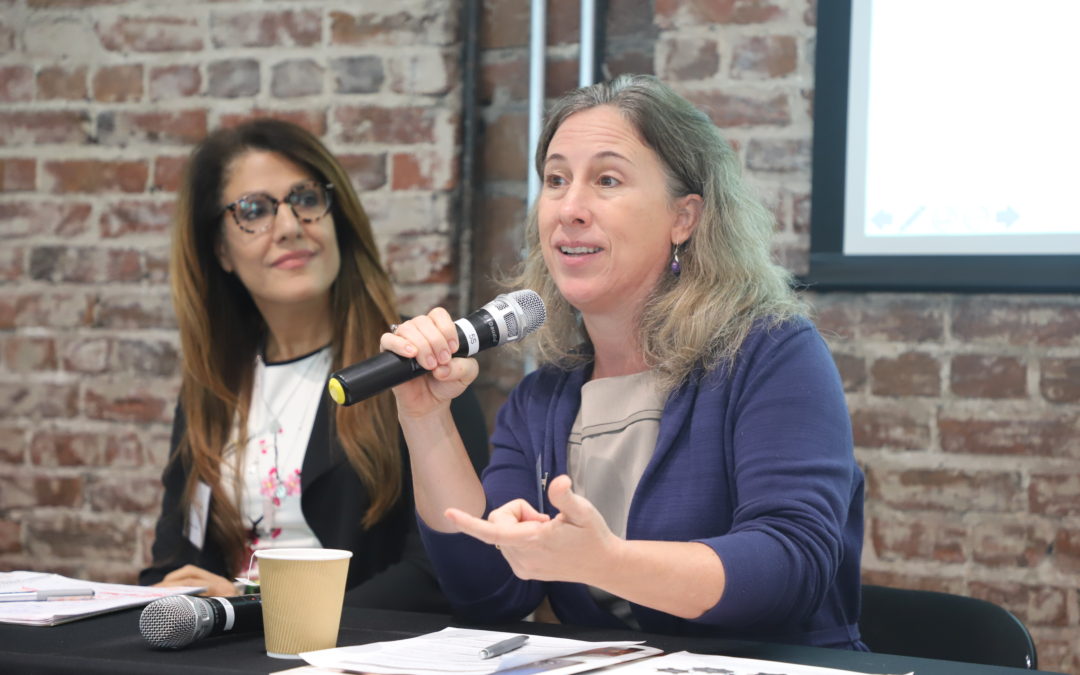 ANNUAL FIRST AMENDMENT SYMPOSIUM ADDRESSES THE IMPACT OF POLARIZATION IN THE PUBLIC SQUARE
WASHINGTON DC—The fourth annual national symposium held by First Amendment Voice (FAV) was hosted at the National Union Building on September 21 under the theme, "Polarization and the Public Square."
Convened around the anniversary of Constitution Day and Citizenship Day (September 17), the symposium gathered civic leaders, veterans, and students to re-affirm the importance of the First Amendment; its promises and protections for all citizens and address the impact of polarization in our public square.
Keynote speaker, Bonnie Carroll, is a retired Major of the Air Force Reserves and is the widow of an Army general who died along with seven other soldiers in a National Guard plane crash in 1992. Out of that loss, she founded the Tragedy Assistance Program for Survivors, which is today the national program providing comfort and care for all who are grieving the death of a military loved one.
"I believe strongly in connection and dialogue," said Ms. Carroll. Describing the importance of peer support and creating shared spaces to build a network to help families experiencing loss, Ms. Carroll likened the process of building bridges to connecting people across all aisles, whether political, ideological, geographical or otherwise, experiencing it herself through her work around the world, including Yemen and Ukraine. "We are here today to be in the place where talking, listening, and institutions and civil society results in problem-solving. I believe there is magic waiting for us all in the middle ground where there is room for peaceful, non-threatening exchange."
Ms. Carroll was joined by colleagues with backgrounds in public policy, law, veteran affairs, nonprofit and peacebuilding, and more to be a part of the discussion on social divisions and the impact of polarization as it all relates to the First Amendment. Moderating a panel on "Polarization—a Survey," Chelsea Langston Bombino from the Institutional Religious Freedom Alliance introduced journalist and author Lu Hanessian to discuss trends in press freedom. She was joined by fellow panelists Dr. Lisa Schirch who covered trends in technology and Ross Irwin, a student at UC Berkley who brought a perspective on freedom of speech on campus who encouraged students and community leaders to participate in discussions that open the dialogue across political affiliation. Mr. Irwin even pointed to the responsibility of parents in educating children and themselves to distinguish bias in the media.
Referred by Ms. Hanessian as an ambiguous umbrella term, media as a whole has become a colossal source of information in which the responsibility relies on the consumer to distinguish and obtain differing perspectives. Directing attention to the instances in which the media has oftentimes—even unintentionally—taken away the humanity of opposing views, she warned, "Polarization goes hand-in-hand with dehumanization. By the time we're polarized, we don't much care for the other person."
A working lunch equipped the forum's participants with the necessary tools to engage in the public square with an interactive "Difficult Conversations" workshop by Kern Beare from Pop the Bubble and Pete Swanson, Director for the Office of Conflict Management and Prevention at the Federal Mediation and Conciliation.
The afternoon featured a special Town Hall forum that highlighted pioneers in forging civic consensus within their organizations moderated by Larry Rosenberg, a trial, appellate and Supreme Court litigator at Jones Day in Washington, D.C. Speakers included Janessa Gans-Wilder, Founder and Chief Executive Officer of The Euphrates Institute and Larry D. Hall, the Secretary for the North Carolina Department of Military & Veterans Affairs.
First Amendment Voice (FAV) is a non-profit, nonpartisan movement created to bring awareness, provide education and promote advocacy for citizens to exercise their First Amendment freedoms of expression, religion, press, petition, and assembly while encouraging citizens to understand, protect, and exercise those rights through ongoing programs like the annual symposium. The fourth annual FAV National Symposium was convened in partnership with Global Peace Foundation, Nation's Mosque, Glass River Media, Veterans for American Ideals, Vale UMC, the Inman Foundation Inc, and SLC Consulting.