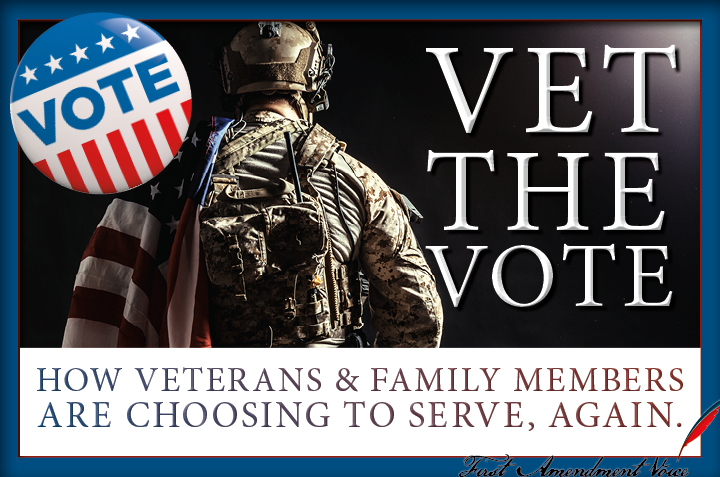 Vet The Vote: How Veterans and Families are Choosing to Serve their Country, Again
First Amendment Voice recently partnered with Vet The Vote and nearly twenty other organizations—including the Iraq and Afghanistan Veterans of America, NFL, National Military Family Association, and Student Veterans of America, to name a few. We were inspired to join this coalition for two key reasons: 1) to preserve fair and peaceful elections in the U.S. in the 2022 midterms and beyond, and 2) to continue showcasing the enormous impact that veterans and their families have on American democratic institutions and processes.
What is Vet The Vote?
Vet The Vote is a project of the We the Veterans Foundation and in 2022, the goal is to recruit over 100,000 veterans and their family members to serve as poll workers for the upcoming midterm elections. This is absolutely critical, since more than 130,000 poll workers have stopped serving over the past three midterm elections and 68% of election officials across the U.S. found it challenging to secure enough poll workers in the 2018 midterm elections. Furthermore, the Pew Research Center reported that 58% of poll workers during the 2018 elections were 61+ years of age.
What all of this means is that our democracy is more at risk than we might think. Poll workers are essential to maintaining fair and free elections. Some of the many responsibilities they fulfill include:
Checking in and assisting voters with any questions or concerns they may have

Ensuring there are adequate supplies for all voters, as well as accommodations for disabled voters (e.g., page magnifiers, wheelchair ramps)

Processing absentee ballots

Maintaining voter privacy

Requesting the removal of disruptive poll observers
In polling places with too few workers, there could be excessively long lines (which could turn people away from voting entirely) or even lead to the shutdown of the polling place in the event of a severe short-staffing issue.
Short-staffed polling places are problematic for urban and rural voters alike. In populous urban areas, the wait time may be longer than the time remaining to vote before the poll closes, especially later in the day when many people go to vote after work. In less-populated rural areas, some people may need to drive for miles just to access a polling place, which can disproportionately impact low-income voters who may have limited means of transportation.
With these troubling consequences in mind, what better way to ensure the right to vote is protected than having veterans serve as poll workers? The vast majority of veterans have already served in nonpartisan ways and understand the importance of service in their communities. Maintaining the security and integrity of our elections now and in the future has never been more important, and American veterans are well-equipped for this task. You can support Vet The Vote by signing up to be a poll worker or donating to We the Veterans Foundation.
2022 National Symposium Panel on Veterans
Additionally, we have a programming scheduled for our 2022 National Symposium in September on the role of veterans in civic engagement. Will you be in the Philadelphia area on September 24th? Please consider joining us at the National Constitution Center. Register here
In addition to our partnership with Vet The Vote, First Amendment Voice also had an outstanding panel on the role of veterans in depolarization during our 2021 National Symposium. You can listen to the full panel on our YouTube page here.
FAV is launching a new series on our YouTube channel exploring the difference between civics and politics and our role as a civic organization. Watch our latest video in the series in which our executive director discusses our partnership with Vet The Vote as an example of civic engagement in action.