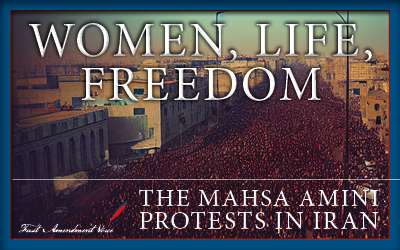 On September 14, 2022, a 22-year-old Kurdish-Iranian woman by the name of Mahsa Amini was imprisoned by Iran's morality police for "improper hijab." 
Two days later, she was pronounced dead while still in police custody.  
In this blog post, we're going to examine how Amini's death sparked the recent wave of protests in Iran, how the government has responded so far, and what you can do to support women's rights and the vital freedoms of speech, assembly and press in Iran. 
A Brief History of Iran's Compulsory Hijab Laws 
Hijab refers to head coverings donned by some Muslim women, and it's important to know about Iran's history of compulsory hijab laws in order to understand why widespread protests broke out after Amini's death.  
As explained by Foreign Policy in October 2022: "Since its inception in 1979, the Islamic Republic has been treating the notion of hijab, the Islamic dress code for women, with excessive urgency and as a burning issue with no expiry date. In 1983, the Iranian parliament made wearing hijab officially mandatory and stipulated a sentence of up to 74 lashes for women seen not to be observing religious dress in public places. The law was amended later to impose a monetary fine and prison sentence on the offenders. These strictures have been enforced persistently ever since. Nowhere in the entire legislative universe of the Islamic Republic can one identify a law that the government has judged to be of comparable significance." 
Long before the protests sparked by Amini's death, compulsory hijab laws have had tremendous impacts on the lives of women in Iran. In a September 2022 NPR interview, University of Cambridge professor of international politics of the Middle East and North Africa Roxane Farmanfarmaian explained, "between 1979 and 1990, when the morality police was formally set up, there was a great deal of pressure on women, often by just people in the streets or by random members of the police forces. And they were often harassed and attacked for not correctly wearing the hijab." 
There have been many protests against Iran's compulsory hijab policies over the years, such as the My Stealthy Freedom movement started by the Iranian-American journalist and activist Masih Alinejad in 2014. In May of that year, Alinejad started a Facebook page that showcased photos of women in Iran without hijab as a way to protest the Iranian government's restrictive dress codes for women. In just two years, the page gained over one million likes and international coverage, but it ultimately did not persuade the government to put an end to its compulsory hijab laws. 
How Iran's Government is Responding to Protests 
As of early October 2022, protests have spread to over 80 cities in Iran and many other cities around the world. In Iran, several women have burned their headscarves while chanting "women, life, freedom" in protest of compulsory hijab laws. 
In response to protesters, the Iranian government has arrested hundreds of people – including journalists – and security forces have attempted to suppress protests through harmful and even lethal means like teargas and live ammunition. As of October 26th, the death toll has surpassed 234 people, including 29 children. 
Niloofar Hamedi, the Iranian journalist who originally broke the story of Mahsa Amini's treatment by the police, has been in solitary confinement in Tehran's Evin Prison since September 22, according to her lawyer.  
Yalda Moaiery, a prominent Iranian photojournalist who has been published in multiple international magazines, was also arrested on September 19 while she was covering anti-state protests in Tehran. According to her father, she's currently detained at Iran's female-only Qarchak prison.  
As of September 30, at least 28 journalists have been detained in Iran as a result of the protests. 
Iran's treatment of journalists is alarming but sadly, not surprising. Despite the fact that press freedom is enshrined in Article 24 of Iran's constitution, Iran has been consistently regarded by Reporters Without Borders as one of the top ten worst countries for press freedom and a 1986 press law created a loophole for authorities to crack down on journalists if their reporting could "endanger the Islamic Republic."  
Iran's police forces have also sought to suppress protests on university campuses. In early October, members of the Basij paramilitary group attacked students protesting at the elite Sharif University of Technology in Tehran. Over 100 protesters were arrested, many were subjected to teargas and live ammunition, and reportedly dozens were wounded by the police response. 
Reports have come out about how security forces in Iran have even targeted teenage girls like 16-year-olds Nika Shakarami and Sarina Esmailzadeh. While Iranian officials claimed the girls committed suicide by jumping off the roof of buildings, their families and human rights organizations (Amnesty International and Iran Human Rights) say they were tortured and later killed by the security forces.  
The Iranian government has also restricted or even completely shut down internet access in many parts of the country. Internet blackouts are incredibly dangerous for freedom of expression and freedom of the press, since they allow the Iranian government to control media narratives about what's going on within the country, who and how many people have been arrested or killed, and what law enforcement responses have been to protests.  
The last time there were widespread internet shutdowns in Iran was 2019, when the government cut off internet access nationwide for 10 days, costing the Iranian economy some $240 million in lost online transactions. 
What You Can Do to Support Women and Freedom of Speech, Assembly and the Press in Iran 
In just the past month alone, the news coming out of Iran has been nothing short of heartbreaking. Coupled with the ongoing Russian invasion of Ukraine and increasing political tension here in the U.S. as the midterm elections approach, it's understandable that many of us are feeling overwhelmed by the amount of conflict going on in the world this year.  
In times like these, it's important to keep in mind this quote from the late Yale Law professor Robert M. Hutchins:
"The death of democracy is not likely to be an assassination from ambush. It will be a slow extinction from apathy, indifference, and undernourishment."  
Rather than giving in to apathy, we can support women, press freedom, and the freedoms of speech and assembly in Iran in some of the following ways: